Summary
Band Camp 2008, July 8 through July 12 at Airstream Park in Olympia, was a huge success! If you weren't able to make it to this band camp, you missed an incredibly intense, exhausting, exhilarating, and educational experience!!!
104 musicians playing together really make an impressive sound--and the concert on our 5th and final day was a memorable occasion for both the musicians and the audience.
It's amazing to realize what was accomplished in such a short period of time under the direction of our 3 talented directors: Vic Jowders from Olympia, Washington; Lew Sbrana from Santa Rosa, California; and Sue Steiger from Bend, Oregon. Kudos to all three of them for their patience, talent, determination -- and great senses of humor!
"What happens at band camp, stays at band camp."
If you would like to see some photos from the 2008 camp, please check out these on the National New Horizons Band website's Photos page. We will have more photos and information here on the Olympia NHB website later this year.

We were fortunate to have the following three outstanding Directors working - and playing - with us: Host Vic Jowders of Olympia, Washington, Lew Sbrana of California, and Sue Steiger of Bend, Oregon. (Roy Ernst was unable to be with us physically, but was definitely here in spirit!)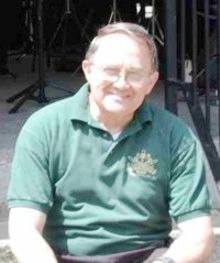 Vic Jowders received his Music degree from Washington State College (Pullman) in 1958, and his public school teaching credentials the following year. He spent his career in the public schools of Washington from 1959 until 1995. He taught both instrumental and vocal, kindergarten through 12th grade, and spent many years conducting church choral groups as well.
During his retirement he has worked with both the Tacoma and Olympia New Horizons groups. He has participated in New Horizons Band Institutes in New York, Palm Springs and Hawaii.

---

Each conductor brought five pieces of rehearsal music. They also brought an enormous amount of positive energy, expertise, and just plain fun to the proceedings. Vic Jowders had us practicing Florentiner March, Caribbean Carnival, Duke Ellington in Concert, Overture in Bb, and Homefront. Sue Steiger brought The Phantom of Dark Hollow, Prairie Songs, Fantasy on Childhood Songs, Sousa's Triumphal March and St. Louis Blues. Lew Sbrana chose Strike Up the Band, Chorale and Shaker Dance II, Deir' in De, West Side Story, and Espana Cani.

Those of us who attended this event, although exhausted, are full of wonderful memories about our experiences playing new music and making new friends at Band Camp 2008.
---
Back to main Band Camp page.

NOTE: To contact us, please e-mail us at the address below.